Year-end schedule!
Dear Customers!
Our year-end schedule looks the following:
Last package pickup day: 2022-12-22. (Payment arrival should be on 21st at the latest). Packages that can't be picked up until then, will be picked up on the first working day.
Last working day: 2022-12-23. We'll be open until 15'o clock.
First working day: 2023-01-02.
Thank you for your understanding.
X
Welcome to our site!
Thank You for visiting us!
My name is Mihály Séra. Since 1993 I am working as an entrepreneur, repairing only IFA L60 trucks and selling their spare parts. Our company was established in 2002. In that time our main profile was the complete reparation of the 6 cylinder IFA, selling spare parts for the model, preparing them for technical exams, constructing and licensing special structures.
As a repairman and driver I have had the chance to get to know the L60 trucks thoroughly. Every car, not only the L60 have typical faults. Knowing these specific errors can help the owner reduce the money spent on repairing their truck. When it comes to repairing I don't prefer simple and expensive solutions. If necessary we repair even the tiniest part. We have the right special tools for every repairing task.
My motto: If a car is broken down, it is not enough to fix the problem, you have to cease the cause of error the as well.
We have all the necessary spare parts in our stock and aiming to offer new, refurbished and used parts as well.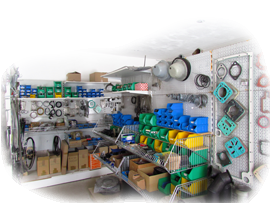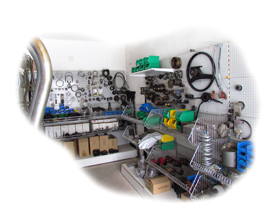 As of January 2016 the decreasing number of IFA trucks in the area, and the increasing interest in spare parts led us the decision to leave the repairing of trucks and completely focus on spare parts sales. Nowadays our main profile completely changed to recondition and sell spare parts for IFA L60 and to sell parts for IFA W50 trucks and for HL and HW type trailers. Our parts are being requested from all parts of Hungary, and from more and more surrounding countries, mainly from Germany and Slovakia, but we can ship Your order in most European country.
A few parts that we offer:
Engine
Gearbox
Transfer gearbox
Differential
Hydraulic steering gearbox
Injection system
Injector
Compressor
Cylinder head
Fan
Water pump
Generator
Starter
Clutch booster
Hydraulic cylinder for cab
Plunger pump for cab
Pressure regulator
Three circuit protective valve
Preloading cylinder
One circuit main brake cylinder
Wheel brake cylinder
Electro-Pneumatic valve
Gearbox control valve
One circuit trailer control valve
Two circuit trailer control valve
Hand brake valve
Spring loaded unit
Ball joint
Drain valve
Brake lining
Brake shoe
Break drum
Windshield
Muffler
Road spring
Leaf spring
Shock absorber
Hydraulic tubes
Pneumatic tubes
Gauges
We wish you a pleasant surfing!